Here's a quick look at new features we've rolled out this month for Entelo Search:
Similar Profiles
Candidate Activity Feed
Improved Diversity Functionality
Exclude Locations Filter
Autocorrection for Misspellings
Groups and Subgroups for Reports

Similar Profiles
If you've ever sourced the perfect candidate and thought 'I wish I had more just like this one' or had an employee you wish you could clone, then Entelo's new Similar Profiles feature is for you.
Now, whenever you land on the profile page of a candidate, Entelo will populate several similar candidates for you automatically. These similar, suggested candidates are a great way to quickly identify a shortlist of candidates with the exact skill set you are looking for.
Candidates who we've determined will be most receptive to a new opportunity will have an orange More Likely To Move icon displayed next to their name.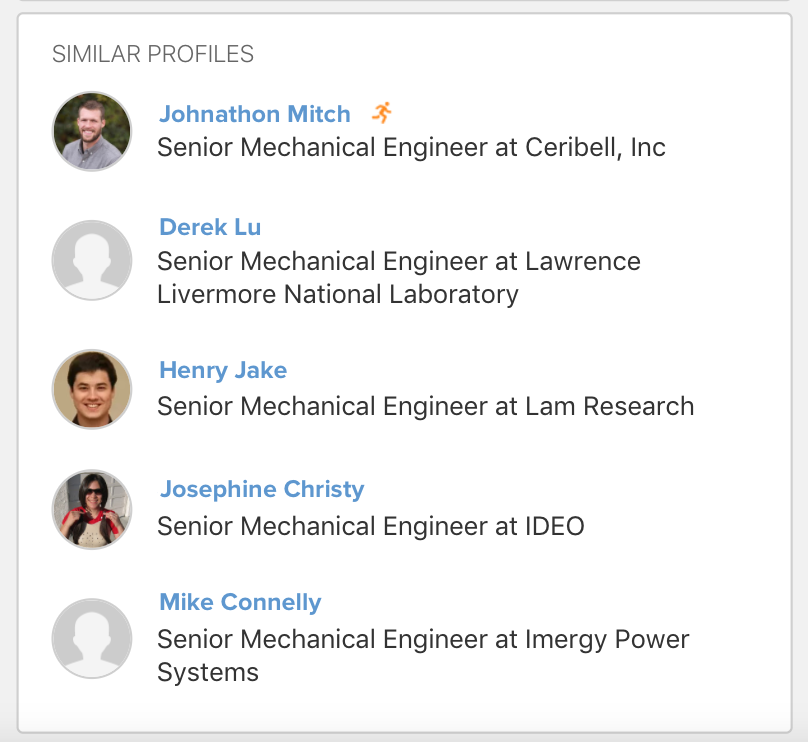 Candidate Activity Feed
Before you engage with a candidate, it's important that you understand what (if any) interaction you've had in the past. With Entelo's new Candidate Activity Feed, it's easier than ever to understand historical activity and collaborate across your team on outreach.
When you land on any candidate's profile page, you will be able to view every interaction that your team has had with that profile. Quickly review list membership, outreach activity, interaction with emails, and more.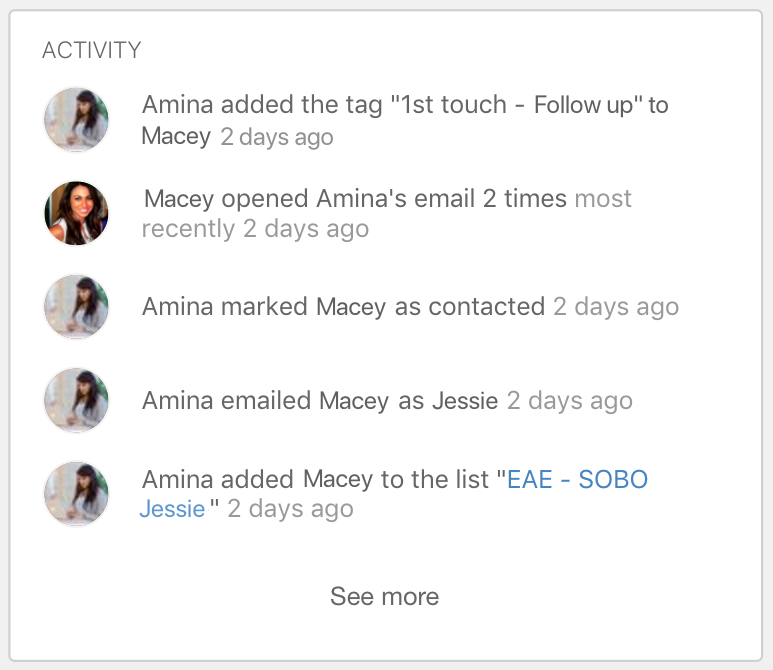 Improved Diversity Functionality
Previously, when searching for more than one diverse group (e.g. 'Black' and 'Asian') Entelo would return a low number of results, as our algorithm would search for candidates who were both Black AND Asian. Now, when more than one diversity filter is selected, results will include candidates who belong to either / any of the groups selected. In other words, these filters now operate as OR instead of AND.
Note: The 'Female' filter is the exception to the rule. 'Female' continues to act as a requirement rather than an extra option (so checking 'Black' and 'Female' will return only Black females).
Exclude Locations Filter
Finding the right talent in the right place just got even easier with Entelo's new 'Exclude Locations' filter. Now, when running a search in Entelo, you have the ability to exclude locations (cities or countries) that you would not consider talent from.
Simply click the 'Exclude' button from the location selection screen and enter the city or country that you don't want to see in your search. Candidates from those specified locations will not appear in your results.

→ Run a search with exclusions


Autocorrection for Misspellings
One of the most common reasons a search returns zero or few results is misspellings! In an attempt to prevent typos from happening, Entelo now detects and automatically corrects misspellings entered into the Keywords box.
Search results will include both correctly and incorrectly spelled keywords. For example, entering the term "recuiter" in the Keywords box will return results for both "recuiter" and "recruiter."


Groups & Subgroups for Reports
It's now easier for managers (especially those from larger companies or those with separate and distinct recruiting teams) to measure the success of their recruiting efforts with Groups and Subgroups for Reports.
Administrators can define groups and subgroups, and once groups have been established, managers can run reports for all of their teams together, or each subgroup individually. To establish groups or subgroups for your organization, please reach out to your customer success representative directly.
Have questions or feedback?
We love hearing from you – you can reply to this message and you'll reach me directly, or contact your Customer Success Manager anytime. If you'd like to see what else we've been up to, you can view previous release notes here.